***** CLICK THE BOLD DATES ABOVE TO SEE THE CLASS FOR FOR THAT DATE *****
This class is for both initial or renewal certification. This is an American Heart Association BLS class, also known as BLS For Healthcare Providers.
The class works like this: Do the 1st part of the course online whenever you want (including the written exam online), and print your certificate of completion. This is what you'll bring to the skills practice session & skills test with Grand Rapids Healthcare Training.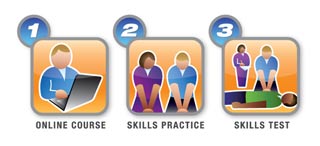 When you complete the 1 hour skill check at our office you'll get your American Heart Association BLS for Healthcare Providers Card on the spot.
Blended learning is a combination of eLearning (part of the course online), followed by a hands-on session in our office.
Ask your boss if "BLS" is what you need. Cards are good for 2 years from the time they are issued.
Yes, this is the same as the full 4 to 6 hour class, but you only spend 1 hour in class. Note that there is still the in-person, hands-on component that must be completed at one of our office before your card will be issued. Beware of online programs that are not offered through the American Heart Association, as they are typically not accepted by healthcare agencies, schools, or other organizations that require BLS certification.
We GUARANTEE that your institution will accept your certification for BLS regardless of whether the course is taken in traditional classroom or blended learning format.
You get:
Access to the course
Skillcheck
Take the written test online, not intimidating at all
1 & 2 rescuer adult BLS (with AED) skills testing sheets
1-2 rescuer infant BLS skills testing sheets
No book to buy.
The certification card issued at the end of the mandatory in-person skills testing session is identical to the full classroom-based version of the course, and there is no way of knowing whether the participant elected the traditional classroom format or blended learning option.
The access key code and instructions on how to log in to the course will be e-mailed to you within 24 hours of orders placed between 730am-530pm Monday-Friday. If order is placed on Friday after 5pm the key code will be emailed Monday morning.
Legal stuff: The American Heart Association strongly promotes knowledge and proficiency in BLS, ACLS, and PALS, and has developed instructional materials for this purpose. Use of these materials in an educational course does not represent course sponsorship by the American Heart Association, and any fees charged for such a course do not represent income to the Association.
When you come to our office, park in the lot in back and enter in an on the doors. We are also on the Rapid Line with a stop outside our office (check the Rapid info for: 44th at 2186 44th (#746)).
We are required to purchase items for every person who attends our classes, so there are no refunds. If you change the date of your class for any reason a $25 fee will be charged.
Class Location:
2180 44th Street S.E.
Suite 105
Grand Rapids, Mi 49508